Books About Purgatory

St. Faustina Prayer Book for the Holy Souls
#1 New Release on Amazon.com!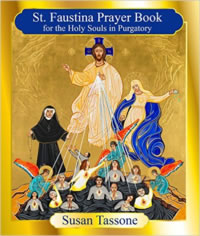 Turn to a passionate and powerful guide to help us pray for the holy souls in purgatory, St. Faustina Kowalska. Includes devotions, meditations, novenas, prayers, and the wisdom of St. Faustina.
EWTN Mass Homily with Father Anthony Mary
on St. Faustina Prayer Book
Day By Day for the Holy Souls in Purgatory
#1 Best Seller Book of the Year at EWTN for 2014 and 2015!
#1 Our Sunday Visitor
#1 Amazon. com
"These daily meditations are a banquet of delights which I am certain will provoke reflection and inspire prayer for a wide range of the faithful. A phenomenal book with fascinating insights on purgatory from the greatest saints, church writers, and mystics of all time. A 'must read' for anyone who wants to provide comfort and lift their loved ones to the bosom of the Lord!"
– Father Dan Cambra, M.I.C.,
National Shrine of The Divine Mercy
and Holy Souls Sodality
"Prayers for those who have gone before us in faith, for the souls in purgatory, are part of the Church's liturgy. Susan Tassone has for many years worked to make such prayer part of Catholic personal devotion. This book of daily reflections will be a great help to all who want to help those we love beyond the separation imposed by death."
– Francis Cardinal George, O.M.I.,
Archbishop of Chicago
"This latest contribution by noted spiritual author Susan Tassone is a wonderful gift and treasure, offering year-round meditations on the Holy Souls in Purgatory.
These daily reflections – a theme, short Scripture passage and a reflection from saints, mystics, theologians and writers with a final short prayer – are carefully presented and fit the seasons and feasts of the liturgical year, while also expanding our knowledge of purgatory and the holy souls.
This is yet another splendid addition to the writings of Susan Tassone who has dedicated her life to devotion to the Holy Souls in Purgatory, and offers for all of us today not only an additional aid for daily meditation, but a most effective means of intercessory prayer that is selfless, generous, and above all, an act of true charity. The style and simplicity of these daily prayers offer a way of efficacious prayer for our deceased relatives and friends as well as for those who have touched our life or who we have met along our own journey of faith.
May these prayers lead us into an ever deeper awareness of the holy souls in purgatory and continue to instruct us on the ways in which our prayers for them have an invaluable purifying effect, while giving to us a means of attaining God's mercy always at work through the holy souls for those of us who offer supplication for them."
– Cardinal Ivan Dias
Prefect Emeritus of the Congregation for the
Evangelization of Peoples, Rome.
Click to buy "Day By Day for the Holy Souls in Purgatory" from Our Sunday Visitor.
Prayers, Promises, and Devotions for the Holy Souls in Purgatory
"The holy souls are eager for the prayers of the faithful, which can gain indulgences for them. Their intercession is powerful. Pray unceasingly. We must empty purgatory!"
– St. Pio of Pietrelcina
A tireless advocate for the holy souls in purgatory, Susan Tassone provides an unprecedented treasure trove of spiritual tools – including devotions, meditations, and wisdom from the holy souls and patron saints of the souls in purgatory – that you can use to take an active role in this vital and rewarding vocation.
Sharing her deep understanding and personal connection with the centuries-old tradition of praying with supernatural charity for the holy souls, Susan will inspire you with her passion and educate you with her meticulous research. In addition, she provides an avenue for the attainment of spiritual gifts for acts done for the souls that cry out for relief.
"A compendium of prayers and devotions for the holy souls in purgatory as well as an excellent new and inventive pastoral guid for those who care for the sick and dying"
– Cardinal Ivan Dias, from the Preface
Here are some of the unique highlights of the book:
Powerful Preface written by Cardinal Dias in Rome
First extensive prayer book for the holy souls written in over 75 years
First ever seen altar where Pope St. Gregory had the FIRST GREGORIAN MASSES offered for the soul of Monk Justus and where he offered Mass regularly for the souls in purgatory
Rare writings from the Purgatory Saints
Catechism of the Catholic Church on Purgatory in a Novena format (easier for devotees to absorb, understand and remember!)
The complete writings on Purgatory of Blessed John Paul II in a novena format
Spiritual Protection Prayers
Special Litany for Priests
First ever section for the sick, suffering and dying including the Apostolic Pardon with both formulas for priest to impart
Special novenas, powerful litanies and much more!
Click to buy "Prayers, Promises, and Devotions for the Holy Souls in Purgatory" from Our Sunday Visitor.
Praying With the Saints for the Holy Souls in Purgatory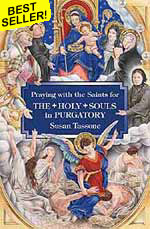 Let the saints inspire you to intercede for the holy souls in purgatory!
Throughout the ages the devotions, prayers, and practices of the Communion of Saints have been offered up on behalf of souls in purgatory, the "Church Suffering." The saints' ardent desire to intercede for the holy souls impelled them to pray ceaselessly for their eternal rest.
This inspiring book shows how you can join the saints in this act of divine charity, thereby attaining spiritual gifts for acts done for the souls that cry out to us for relief.
Over the years, Susan Tassone has been tirelessly writing and teaching about this revered tradition of praying for the Holy Souls in Purgatory. Her meticulous research and attention to both historical and spiritual detail has helped many to understand more deeply the value of this singular devotion and selfless way of prayer. She has brought a whole new dimension to this devotion, seeing it through the spiritual writings and traditions of saints throughout the centuries.
Click to buy "Praying With the Saints" from Our Sunday Visitor.

The Way of the Cross for the Holy Souls in Purgatory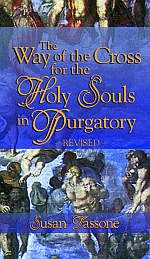 Recall, reflect, remember, and pray
Recall loved ones who have died and, in a spirit of true charity, keep in mind other departed souls who may have no one on earth to pray for them.
Reflect on the reality of purgatory and those who, though so close to heaven, must still prepare to enter it. These souls, the Church teaches, can benefit from your prayers for them and whose prayers, in return, can benefit you.
Remember, Station by Station, the Passion and death that Christ endured for those souls, for all souls, for your soul.
Pray that the same Christ, the One who conquered death, may soon welcome into the Eternal Banquet the souls of your loved ones, and the souls of all the faithful departed.
With its one-of-a-kind combination of the traditional prayers of the Stations of the Cross and scriptural reflections focusing on Christ's passion and death, The Way of the Cross for the Holy Souls in Purgatory was an immediate best-seller when first published in 2000. The revised edition is expanded and features beautiful, four-color mosaics from Marytown, home of the National Shrine of St. Maximilian Kolbe.
Prayers of Intercession for the Holy Souls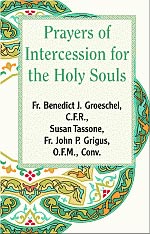 Audio tape led by Fr. Benedict Groeschel, C.F.R., and Fr. John Grigus, O.F.M. Conv., based on book by Susan Tassone
Now, you can be a member of this "audio faith – community," lifting mind and heart to God and remembering loved ones who have passed away.
Let popular author and retreat master Fr. Benedict J Groeschel, C.F.R. guide you through the Stations of the Cross (using Susan Tassone's excellent book) and the Litany of the Holy Souls.
Allow Marytown's Fr. John Grigus, O.F.M. Conv., to lead you in praying the Rosary, Benediction, and the Divine Praises.
Add your voice and your petitions to this congregation that includes Franciscan friars, novices, and lay men and women.
A thoughtful gift for a family member, friend, or fellow parishioner, especially one who has difficulty seeing.
Thirty-Day Devotions for the Holy Souls
Prayers, Scripture, and reflections
The months following the death of a loved one are an especially difficult time. Thirty-Day Devotions for the Holy Souls offers comfort to those who are grieving and gives them a personal and powerful method of praying for their departed family member or friend.
Day by day, here are:
Prayers and meditations that console the one who mourns and assist the one who has died
Scriptural passages
Reflections from Church Fathers, saints, and theologians
Answers to the most commonly-asked questions about purgatory
The Rosary for the Holy Souls in Purgatory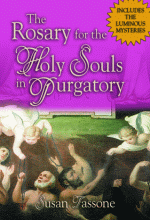 A new way to pray for the Holy Souls in Purgatory
Giving the Holy Souls in Purgatory an indulgence is "the highest act of supernatural charity," says Blessed Pope John Paul II. What better way to pray for them than by adapting our favorite devotional tradition — the Rosary?
This little book slips easily into your pocket, so it can go with you anywhere you have time to pray. Susan Tassone points out the Scripture passages that relate to those awaiting their release into heaven. As you pray, you'll come to a deeper understanding of Purgatory.
There's simply nothing else like this book. Make praying for the Holy Souls a regular part of your devotional life.