Pray for the Holy Souls!

New Articles with Susan
Order Susan's Newest Book


St. Faustina Prayer Book
for the Conversion of Sinners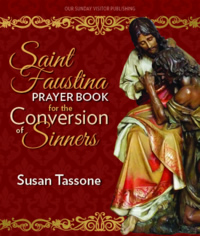 #1 New Release on Amazon.com
"Today bring to Me all mankind, especially all sinners, and immerse them in the ocean of My mercy." — Jesus to St. Faustina
Throughout her Diary, St. Faustina speaks of Jesus' call for the conversion of souls. Through prayer and sacrifice, the Lord calls us all to strive for our own conversion, and for the conversion of the whole world.
Perhaps you've tried everything to draw your friend or family member back to faith in God. In St. Faustina Prayer Book for the Conversion of Sinners, best-selling author Susan Tassone shows you how to place the lives of all you love into God's merciful hands. Known worldwide as "the purgatory lady," Susan invites you to learn how to live the message of conversion daily, to avoid purgatory, and to become more faithful in praying for others.
St. Faustina Prayer Book for the Conversion of Sinners is a much-needed treasure which allows us to glimpse the mercy of God and his call to conversion. I pray that all who read this book will be touched by God's love and experience the grace needed to follow Jesus more closely as his disciples.
— Cardinal Seán P. O'Malley, OFM Cap.
Archbishop of Boston
"In her most recent book, Susan Tassone – our very own 'Apostle for the Souls in Purgatory' – uses the spiritual wisdom of St. Faustina to call us all to conversion. Use it faithfully to pray for relatives and friends, and apply it to yourself to help with your own growth in holiness."
— Greg Erlandson, Editor in Chief, Catholic News Service
Susan's New Books on Purgatory Available

St. Faustina Prayer Book for the Holy Souls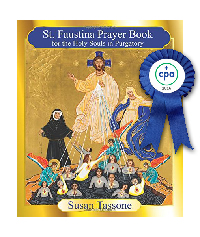 #1 New Release on Amazon.com
Turn to a passionate and powerful guide to help us pray for the holy souls in purgatory, St. Faustina Kowalska. Includes devotions, meditations, novenas, prayers, and the wisdom of St. Faustina.
EWTN Mass Homily with Father Anthony Mary
on St. Faustina Prayer Book
---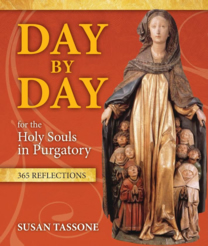 Day By Day for the Holy Souls in Purgatory
#1 Best Seller Book of the Year at EWTN for 2014 and 2015!
#1 Our Sunday Visitor
#1 Amazon. com
"These daily meditations are a banquet of delights which I am certain will provoke reflection and inspire prayer for a wide range of the faithful. A phenomenal book with fascinating insights on purgatory from the greatest saints, church writers, and mystics of all time. A 'must read' for anyone who wants to provide comfort and lift their loved ones to the bosom of the Lord!"
– Father Dan Cambra, M.I.C.,
National Shrine of The Divine Mercy
and Holy Souls Sodality
"Prayers for those who have gone before us in faith, for the souls in purgatory, are part of the Church's liturgy. Susan Tassone has for many years worked to make such prayer part of Catholic personal devotion. This book of daily reflections will be a great help to all who want to help those we love beyond the separation imposed by death."
– Francis Cardinal George, O.M.I.,
Archbishop of Chicago
For more information, go to our Books page.  Or click to buy from Our Sunday Visitor.
Who Are the Holy Souls?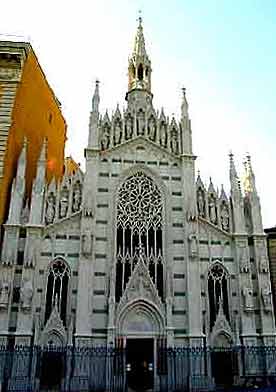 Souls who need to be purified
The Holy Souls in Purgatory are those which, at the time of death, were in a state of grace, but who need to be purified before they enter the beatific vision. The Catechism of the Catholic Church (1030 – 1031) teaches that
All who die in God's grace and friendship, but still imperfectly purified, are indeed assured of their eternal salvation; but after death they undergo purification, so as to achieve the holiness necessary to enter the joy of heaven.
Each year pilgrims travel to pray for the holy souls and visit the Museum of the Holy Souls in the Chiesa del Sacro Cuore del Suffragio (Church of the Sacred Heart of the Suffering Ones) in Rome. For more information on praying for the holy souls, read our Masses page.
About the Author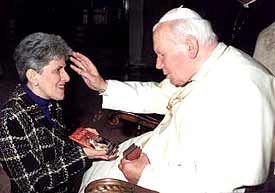 Susan Tassone
Susan Tassone has long been a passionate champion for the holy souls in purgatory and is recognized as leading the "purgatory movement" in the United States. She is a best-selling author whose first work, The Way of the Cross for the Holy Souls in Purgatory, has sold more than 75,000 copies. In addition to her many writings on behalf of those in purgatory, she is a popular speaker and frequent guest on radio and TV shows. Susan holds a master's degree in religious education from Loyola University and has had the honor and privilege of being granted two private audiences with Blessed Pope John Paul II, who bestowed a special blessing upon her and her ministry for the holy souls.