Pray for the Holy Souls!

St. Faustina Prayer Book for Adoration
New Release Coming March 1st – Order Your Copy Now!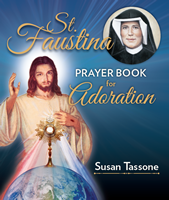 The future of humanity will be greatly influenced by those who take time for Adoration of the Blessed Sacrament. Susan Tassone's St. Faustina Prayer Book for Adoration provides a spiritual master's guide as to why adoration will make a difference in ones's spiritual life and the world. This book will awaken a deeper desire for disciples of Christ to find their way to a church or chapel in the spirit of St. Faustina and allow her to become a great mentor in the art of adoration. Thank you, Susan Tassone, for honing the depths of St. Faustina's writings to help others discover in a fuller way the Lord of the Eucharist who awaits our time alone with him!
— Most Reverend Robert J. Baker, Bishop of Birmingham, Alabama
---
This stunning and powerful book can help you better appreciate and follow the stepping stones to a deeper adoration St. Faustina discovered and developed in her own life. Here are ways to lift you to a new supernatural level, to a more personal and intimate relationship with Our Lord.
— Jacquelyn Lindsey, Editor, Leaves Magazine
---
I am absolutely convinced that today we must turn to Eucharistic adoration to be strengthened for the battles of our day. Susan Tassone gives us prayers, insights, gazes, and so much more to help us live Eucharistic-centered lives. Ours is an age of noise. Unless we return to silence in our inner lives, we will not be able to withstand the chaos of the world. It gave me great joy to find Susan's section on the "graces of silence" included in this book.
— Most Reverend James D. Conley, Bishop of Lincoln, Nebraska
---
Perhaps no other devotional practice offers greater opportunity for transformation than Eucharistic Adoration. In her latest book, best selling author Susan Tassone offers us the wisdom,insight, and inspiration of St. Faustina as a means to help us tie the treasury of grace that awaits us before the Sacred Species. Replete with beautiful quotations, practical advice and counsel, and the Saint's own prayers and meditation, this prayer book may well become a standard for Eucharistic adorers everywhere.
— Johnnette S. Benkovic, EWTN Television and Radio Host
---
With St. Faustina Prayer Book for Adoration, author Susan Tassone has given the Church a splendid work to help all of us in the pursuit of holiness. Whether you're just beginning adoration as a discipline or have practiced it for years, through her spirit-filled reflections Susan offers St. Faustina as a companion to accompany and guide you.
— Most Reverend Jerome E. Listecki, Bishop of Milwaukee, Wisconsin
---
St. Faustina Prayer Book for Adoration is a rich spiritual guide for those who value quiet time before the Lord in the Blessed Sacrament. This compendium by Susan Tassone will be of great value especially to the iGen culture since many of those born after 1995 are only now discovering how Eucharistic adoration sets them on a new path for their life. Many seminarians today tell me that their vocational call was first heard during their time spent before the Lord in adoration.
— Rev. Mark A. Latcovich, Ph.D., President-Rector of Borromeo and Saint Mary Seminaries, Diocese of Cleveland
---
St. Faustina Prayer Book for Adoration does a breathtaking job of presenting the words and actions of a saint so well-known and admired for her prayer life and devotion to Our Lord.
— Brother Donald Thielsen, National Shrine of St. Maximilian Kolbe at Marytown.
---
St. Faustina Prayer Book for Adoration is a precious resource that aids us all as we ponder the mysteries of salvation. Susan Tassone has provided us with an excellent and well-researched guide that enhances our approach to prayer, enriches our awareness of the adoration experience, and transforms our hearts toward holiness.
— Dr. Marcel Fredericks, Ph.D. Professor Emeritus, Loyola University Chicago, Doctor, Honoris Causa, Czestochowa University of Technology, Poland
---
When, where, and how can you step away from our hectic world's nearly constant noise and enter the peace and silence of adoration? Using selected prayers, insights, and examples from St. Faustina, author Susan Tassone gives you ways to find times, places, and methods to better focus your attention and love on Our Lord. Here, too — living in a merciless world — is how to seek and to share mercy freely as "The Apostle of Mercy" leads you ever more closely to Jesus.
– Father Mitch Pacwa, S.J.
---
This prayer book is a treasure for anyone who spends time worshipping the Lord in the Blessed Sacrament. Especially unique and valuable are St. Faustina's reflections on adoration and her moving prayers. You'll want to take it with you to the Eucharistic chapel or have it handy at home for spiritual adoration when you can't get there.
— Bert Ghezzi, Author of The Power of Daily Prayer
---
St. Faustina Prayer Book for Adoration is the crown jewel in Susan Tassone's trilogy on St. Faustina and Divine Mercy. Here's why, how, when, and where to offer adoration just as St. Faustina did.
— Father Dan Cambra, M.I.C., Holy Souls Sodality at the National Shrine of The Divine Mercy